For years, parents transferring IRA assets to their children at their death had the opportunity to stretch the distributions of that IRA over the children's or beneficiary's life expectancy. For children in their 50s, this was over 30 years.  Two of the benefits of stretching out payments over life expectancy were that it provided the beneficiary a steady long term source of supplemental income and distributed taxes on the withdrawals over several decades.
With the enactment of the SECURE Act effective January 1, 2020, the option to stretch out payments to most non-spouse beneficiaries is now limited to 10 years.  Within 10 years, the beneficiary must withdraw the entire sum and pay the necessary taxes on the total sum distributed. In addition to the more limited duration of this supplemental income, the more rapid withdrawal of funds from the inherited IRA may push the beneficiary into a higher income tax bracket, causing the beneficiary to pay more tax on the withdrawals than would have been necessary under the stretch IRA rules.
Enter the life-income plans as an alternative to the stretch IRA.  If an IRA owner designates her IRA to be distributed upon her death to create a charitable gift annuity or charitable remainder trust, she can accomplish many of the benefits associated with the stretch IRA.
A testamentary life income plan funded with IRA assets can provide steady payments over the beneficiary's lifetime. It also avoids income taxes when it is funded and limits future income taxes to the taxes on payments as they are received. In the case of a charitable remainder unitrust, the income beneficiaries can also share in the benefit of tax-free growth inside the trust.
In addition to income tax benefits, the creation of a testamentary life income plan provides a tax deduction towards estate and inheritance taxes. Even though only a tiny fraction of donor estates will owe federal estate tax, many more will owe state-level estate and/or inheritance taxes. A testamentary life income plan can reduce those taxes.
Before encouraging a donor to explore with her advisors funding a testamentary life income plan with retirement plan assets, consider whether the age(s) of the intended beneficiary(ies) align with your organization's minimum age policies or the IRS's 10% minimum deduction requirement. In the case of a charitable remainder annuity trust, there's also the 5% probability of exhaustion test to worry about. If the beneficiaries are too young to clear all these hurdles, you may want to suggest funding a charitable remainder trust with a 20-year term, which is still double the new 10-year limit on inherited IRAs. 
For donors who have substantial assets remaining in their IRA when they die (at least $100,000), a desire to provide income to heirs, and strong charitable motivation, funding a testamentary life income plan with retirement plan assets could be an excellent option for both these donors and your charity. And don't forget, qualified charitable distributions from an IRA during life and an outright gift of retirement plan assets at death remain great tax-efficient ways for your donors to support your charity.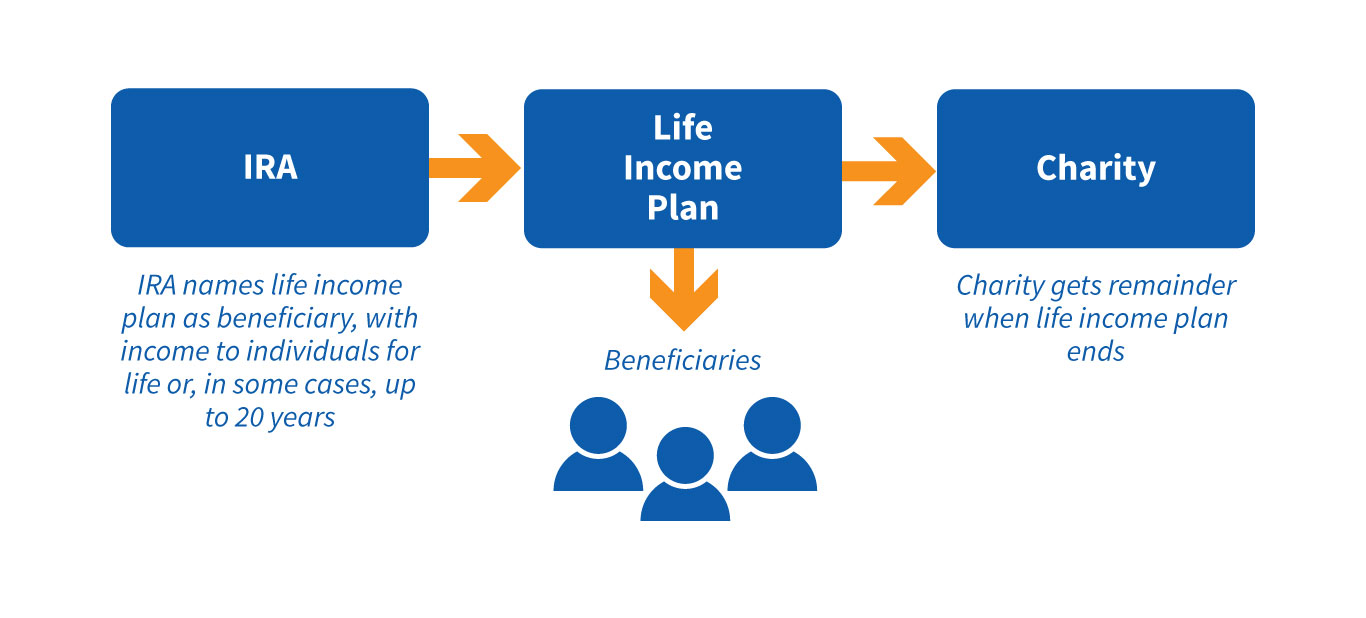 Special thanks to Bill Laskin and PG Calc for this great information.